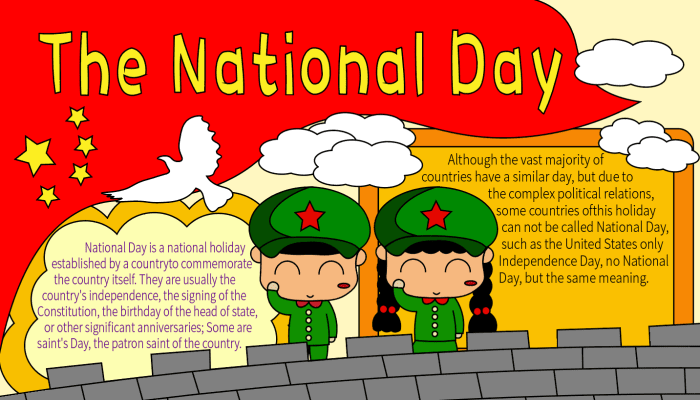 National Day of the People's Republic of China
 (Chinese: 国庆节; pinyin: Guóqìng jié) is a public holiday in the People's Republic of China to celebrate their national day, and is celebrated annually on October 1.
The PRC was founded on October 1, 1949, with a ceremony at Tiananmen Square. One thing should be noted is that the PRC was not founded on that day, but on September 21, 1949. The Central People's Government passed the Resolution on the National Day of the People's Republic of China on December 2, 1949, and declared that October 1 is the National Day.

The National Day marks the start of only one of the Golden Weeks in the PRC. However, there have been some recent controversies over whether Golden Weeks should be kept.
The National Day is celebrated throughout mainland China, Hong Kong, and Macau with a variety of government-organized festivities, including fireworks and concerts. Public places, such as Tiananmen Square in Beijing, are decorated in a festive theme. Portraits of revered leaders, such as Mao Zedong, are publicly displayed.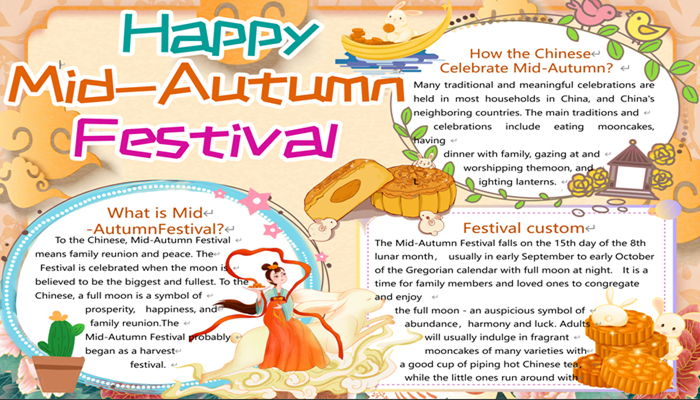 Mid-Autumn Festival
Falling on the 15th day of the 8th month according to the Chinese lunar calendar, the Mid-Autumn Festival is the second grandest festival after the Spring Festival in China. It takes its name from the fact that it is always celebrated in the middle of the autumn season.
The day is also known as the Moon Festival, as at that time of the year the moon is at its roundest and brightest.
2019 Mid-Autumn Festival falls on September 13th,the holiday lasts from September 13th to 15th,due to the pleasant autumn weather this is a peak time for travel,at same time our office will be closed during September 13th to 15th September, if any urgent questions please contact us by Email: info@bng-intl.com
Welcome to China and explore the traditional folk customs of this interesting festival!
---
Post time: Sep-29-2023